Course details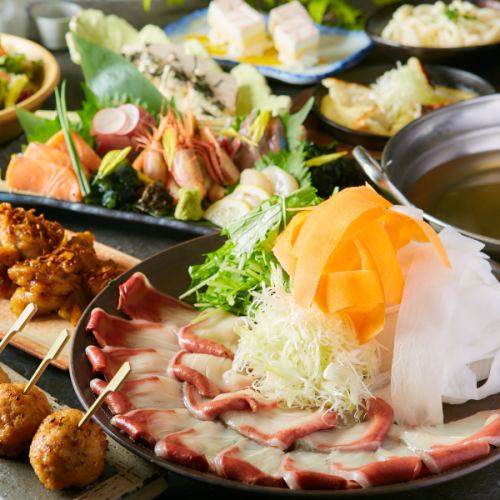 ■ Polar ■ Yuzuki Special Premium ★ Enjoying Soup Shabu Shabu of Chilling Sauce for the first time ♪ 【Unlimited time with unlimited drinks】 10 items 5,000 yen
10items

3persons

~

All-you-can-drink available

□□ ■ All course with all you can drink up to 80 ★ Drink anytime plan grade UP also available ♪ + 500 yen 【B + A + S】 course you can drink as you want! ■ □□
All-you-can-drink all-you-can-eat & luxury cuisine can be enjoyed to your heart's content! It is Yuzuki pushing course with luxurious contents, accompanied by soup shabu-shabu with cold soup for the first time in the making of 5 ingredients!
Menu
[1 item] today of a small bowl
【2 items】 Warm ball Caesar salad
【3 items】 Sashimi 5 points on offer
【4 items】 Soup Shabu Shabu after a cold smell
【5 items】 Mao Zedong Spicy Chicken
【6 items】 Teppan cheese dumplings
【7 items】 porridge cooked boiled rice
【8 items】 Chicken meatball with warm ball
[9 items] deadline Udon of
【10 items】 Today's cake
==========================
◎ course of your description ◎
※ All-you-can-drink A plan is included (last order 30 minutes ago)
※ 3 persons -
※ Friday, Sunday and public holiday will be 3 hours and + 300 yen.
※ There is the case that the contents are subject to change by buying situation.
All-you-can-drink menu
· ◆ ◇ ◆ all-you-can-drink A plan ◆ ◇ ◆
Tull students
Clear Asahi barrel production / Jean DIGA off / Kashisubia / Muscat Beer / blueberry Beer / La France Beer
·Highball
· Black Nikka High Ball / Ginger High Ball / Cola High Ball / Lemon Squash High Ball / Italian High Ball
Shochu
Tow To (potato) / ceased and the (wheat)
·Cocktail
Cassis soda / cassis orange / black currant grape / Cassis Oolong / cassis tonic / Peach soda / Fuzzy Navel / Peach Grape / Regepanchi / Peach tonic / Raichisoda / lychee orange / lychee grape / Lychee Oolong / lychee tonic
·Cocktail
Jin tonic / Jinbakku / Gin Ricky / vodka tonic / Moscow Mule / screwdriver
·wine
- Almaden (red and white) / Vie Nha Arubari sangria (red and white)
·sour
· Lemon Sour / Lime Sour / Grapefruit Sour / Orange Sour / Acerola Sour / Oolong Hi / Green Tea High / Jasmine High / Veggie Carrot & Apple / Veget Shower Celery & Lemon
·Soft drink
· Pepsi · Cola / Ginger Ale / Tonic Wa Ta - / Orange Juice / Grapefruit Juice / Lemon Squash / Acerola Soda / Calpis / Calpis Soda / Oolong Tea / Green Tea / Jasmine Tea
·plum wine
· Easy plum / rice wine sake
·Sake
- Exciting
· ◆ ◆ ◇ ◆ All you can drink S plan ◆ ◇ ◆
·beer
· Asahi Super Dry / Chandigauf / Cassisubia / Muscat Beer / Blueberry Beer / La France Beer / Dry Zero Vial
·Highball
· Jack Daniel / Black Nikka Rich High Ball / Ginger High Ball / Cola High Ball
Shochu
· Satsuma Shiji (potato) / gold black (potato) / first tender (wheat)
Reservation deadline

Coming to the store until the desired date of the day 22
Available days for reservation

Monday - Sunday - Public holidays - Holidays
2018/09/12 update